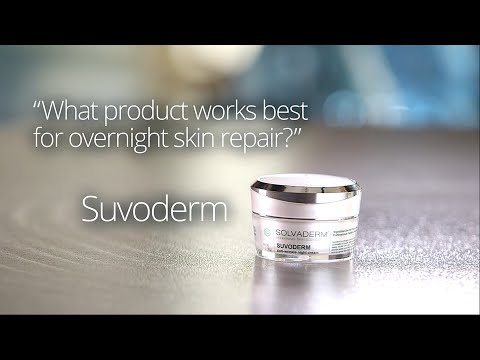 Revolutionizing
Cosmetic Dermatology
Discover Solvaderm's Professional Strength Products For Healthier And More Beautiful Skin.
About the product
Suvoderm is an overnight skin repair cream that heals, restores and renews your skin while you sleep. This product works with your skin's natural mechanisms for repair and rejuvenation that goes on overdrive when you are asleep. This product provides intense skin hydration while simultaneously replenishing lost nutrients that work together to heal damage but also improve your overall skin health.
Usage
Suvoderm is intended as a nightly repair cream. Always apply the product only on freshly cleansed and toned skin. Use this on top of your skin treatments and under thicker products in your regimen. Apply by dotting around your face. Spread the product evenly using upward and outward motion, giving your skin a gentle massage in the process. Use over your neck and chest areas as well, if desired.
Ingredients
Niacinamide: This ingredient is a total performer, having plenty of natural properties that promote skin health and better appearance. It not only provides your skin with a moisture boost, it also serves as an antioxidant, improves microcirculation, helps clear up unsightly skin pigments, and facilitates faster skin repair and renewal.
Saccharomyces/Copper Ferment (Cu Complex): This ingredient makes Copper bioavailable for your skin cells to utilize for repair, restructuring and renewing. It helps facilitate faster restoration of your youthful skin.
Vitamin E: A powerful antioxidant, this ingredient not only protects your skin but also enhances your skin's moisture content. It helps rebuild your skin's protective barrier to help keep more moisture in while also keeping irritants out.
Hyaluronic Acid: An ingredient that closely resembles your skin's natural moisture, this ingredient draws in more moisture to your skin. It also helps restore your skin's natural ability to capture moisture and keep more of it over longer periods of time.
Thioctic Acid (Alpha-Lipoic Acid): This ingredient delivers anti-aging functions by enhancing cellular energy. It also provides anti-inflammatory and antioxidant functions that protect your skin from further damage and aging.
Persea Gratissima (Avocado) Oil: This ingredient contains very high amounts of essential fatty acids that help boost your skin's repair and rejuvenation functions. It also boosts your skin's moisture content.
Glycine Soja (Soybean) Oil: A natural anti-inflammatory, this ingredient increases your skin's moisture content. It also leaves your skin surface better conditioned and with a brighter complexion.
Carnitine: It promotes a healthy skin barrier that helps your skin stay comfortably moisturized for hours. This ingredient also helps to control and regulate sebum production, helping skin stay well conditioned on the surface without making it greasy.
Retinol: A Vitamin A derivative, this ingredient delivers both wrinkle-correcting and dark spot lightening properties. It works by facilitating faster skin shedding, regeneration, and renewal. This stimulates higher amounts of collagen production.
Salvia Officinalis (Sage) Extract: It soothes and calms skin inflammation, which, in turn, helps prevent further skin damage leading to the appearance of multiple signs of skin aging. This ingredient also boosts your skin's antioxidant levels and facilitates more efficient circulation.
Vitis Vinifera (Grape) Seed Oil: This ingredient revitalizes your skin, leaving it more radiant. It helps keep your pores clean, while also delivering moisture that makes your skin appear healthier and more dewy.
Ubiquinone (Coenzyme Q10): This ingredient is a well-known super antioxidant that also functions as a moisturizing ingredient. Studies have shown that it helps protect the integrity of your skin by protecting collagen fibers, making them take a longer than average life cycle.
Benefits
Suvoderm replenishes key nutrients in your skin to enhance overall skin health and vitality.
This product replenishes your skin's ideal moisture and hydration content, making your skin well conditioned from the inside out.
It delivers wrinkle-correcting ingredients that help your skin better cope with skin damages that cause wrinkles and other visible signs of skin aging.
It protects your skin from further damage by alleviating dryness and by boosting your antioxidant levels as well.
It helps facilitate faster skin healing and repair so that you can keep your youthful looking skin and radiant complexion longer.