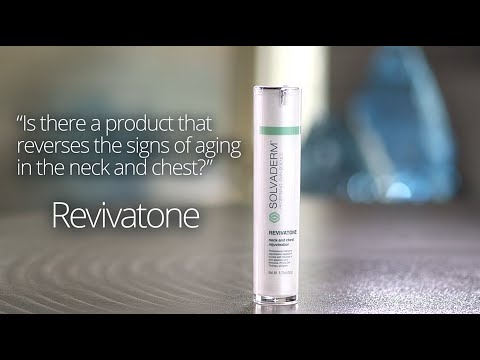 Revolutionizing
Cosmetic Dermatology
Discover Solvaderm's Professional Strength Products For Healthier And More Beautiful Skin.
About the product
Solvaderm Revivatone is intended as an intensive anti-aging treatment specially formulated to help your skin fight signs of aging occurring on the neck and chest areas. This product tones, tightens, and firms up your skin not only by enhancing your skin's moisture content but also by employing two key peptides, Hexapeptide-10 and Acetyl Dipeptide-13, for improving the health, quality and integrity of your skin.
Usage
Revivatone is ideal for people experiencing advanced aging of skin on the neck and chest, but also for those who want to prevent skin aging on these areas. To use, simply dot the product over freshly cleansed skin. Exfoliate your neck and chest areas regularly to help further enhance this product's healing and repair functions. Apply this product as part of your morning and evening skincare routines to see improvements sooner.
Ingredients
Hexapeptide-10: This peptide works by enhancing the health and integrity of the dermo epidermal junction (DEJ). Compromised functioning in this area causes neck and chest skin to develop folds and become saggy.
Acetyl Dipeptide-13: This improves skin health by driving up the production of collagen fibers. In addition, it also enhances skin synthesis, which strengthens the skin and gives you firmer, better-toned skin.
Hyaluronic Acid: This ingredient draws more moisture from the surroundings to rest on your skin. It also helps restore your skin's powerful capability to absorb moisture like a sponge and keep transepidermal water loss to a minimum.
Squalane: Derived from olive oil, this ingredient significantly increases your skin's moisture content without making your skin surface greasy. It also helps fill in gaps and creases on the matrix that makes wrinkles appear softer and much less prominent.
Glycerin: This ingredient hyper moisturizes your skin with its strong humectant properties that helps your skin hold in more moisture. It also supports the rebuilding of your skin's natural barrier.
Benefits
This product provides an excellent way to significantly replenish the moisture content of skin on your neck and chest areas.
This product promotes enhanced skin elasticity, firmness and toning, giving your neck and chest a more youthful appearance.
It improves skin synthesis and overall skin quality to better protect your skin from damage as well as from developing visible signs of skin aging.
It plumps thin skin on the neck and chest, making these appear fuller.
It supports the rebuilding of your skin's protective barrier, which also helps keep moisture in.