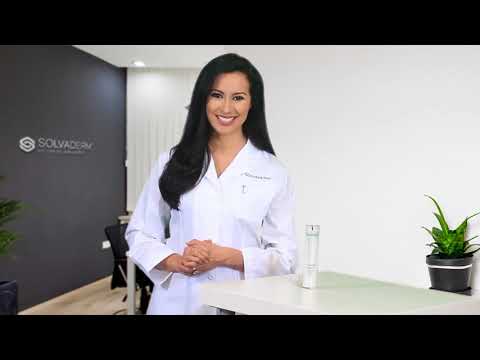 Revolutionizing
Cosmetic Dermatology
Discover Solvaderm's Professional Strength Products For Healthier And More Beautiful Skin.
About the Product
This system consists of two Solvaderm products:
Revivatone - Specially formulated to address aging on the neck and chest, this ingredient restores your skin's ideal moisture content. It helps prevent aging by preventing dryness, providing better neck-skin support to fight sagging.
Stemuderm - With the help of plant stem cells, peptides, and a deep hydrating complex, this product gives your skin a fuller appearance. It helps restore your skin's fullness and keeps it conditioned for longer.
Usage
Step 1: After cleansing, apply Stemuderm on the face, and Revivatone on neck and chest.
Step 2: Blend in well with a gentle massage.
Ingredients
Solvaderm Ingredients:

Malus Domestica Fruit Cell Culture - Plant stem cells enhance your skin's regenerative and rejuvenating functions. It supports your skin's natural mechanisms for renewal and protects it from damage at the same time.
Peptides and amino acids - This consists of Acetyl Hexapeptide-8, Dipeptide Diaminobutyroyl Benzylamide Diacetate, Acetyl Glutamyl Heptapeptide-1, Palmitoyl Oligopeptide, Pentapeptide-3 & Palmitoyl Tetrapeptide-7 (Matrixyl 3000). These key protein precursors help your skin turnover faster, making skin imperfections less noticeable with regular use and consistent application.
Nourishing Complex - This consists of Jojoba Seed Oil, Apricot Kernel Oil, Squalane, and Hyaluronic Acid. These ingredients replenish your skin's lost moisture at different levels and leave your skin's surface better conditioned for a velvety after-feel.

Revivatone Ingredients:

Peptides made with Hexapeptide-10 and Acetyl Dipeptide-13 - These amino acids work with your skin's natural mechanisms for rejuvenation to help deliver less noticeable wrinkles and prevent skin sagging.
Nourishing Complex - This combines Hyaluronic Acid, Squalane, and Glycerin, three of the most powerful ingredients for restoring your skin's moisture content back to optimal levels. These ingredients also help your skin regain its naturally powerful ability to capture, hold, and lock in moisture for a longer period of time.
These products are each formulated to specifically address your skin's changing needs as you age.
Both products are designed to hyperhydrate your skin, causing it to appear plump which, in turn, softens the appearance of fine lines and wrinkles.