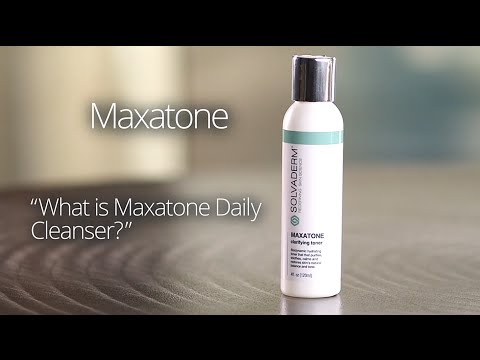 Revolutionizing
Cosmetic Dermatology
Discover Solvaderm's Professional Strength Products For Healthier And More Beautiful Skin.
About the product
Solvaderm Maxatone is a high performance toner that helps heal and rejuvenate dry, dull and lifeless skin. For skin constantly exposed to the sun, dirt and pollution, Maxatone helps draw out impurities from your pores, and assists in better transporting the beneficial ingredients in your serums and creams.
Clarity and vitality from 11 key ingredients all derived from the natural healing goodness of nature. Combined, ingredients such as licorice root extract, witch hazel extract, and calendula, relieve skin from irritation and other forms of inflammation, disinfect your skin safely to prevent build up of bad bacteria, and protect with a load of antioxidants. Finally, the toning benefits that you've been looking for in a toner may now be achieved with Maxatone.
Usage
After cleansing, pat dry. Moisten a cotton pad with Maxatone. Gently apply the toner to your face, neck and chest. For best results, use day and night as the second part of your regimen. Immediately follow through with the appropriate moisturizer to help replenish lost oils and moisture.
Ingredients
Hamamelis Virginiana (Witch Hazel) Extract: One of the best-known natural ingredients for enhancing skin tone, this component delivers multiple skin benefits. First, it draws out impurities stuck in your pores. Second, it tightens your pores which, in turn, smoothens your skin's texture. Third, it helps regulate your skin's sebum production. These properties make this ingredient ideal for oily and acne-challenged skin types.
Achillea Millefolium Extract: Aside from its skin toning properties, this ingredient is also a natural antibacterial agent. It helps your skin fight blemish-causing bacteria so that you can enjoy a flawless and radiant complexion.
Hyaluronic Acid: Best known as a moisture magnet, this ingredient attracts moisture from the surrounding air and tissues to rest on your skin. This causes skin to appear dewier and fuller.
Symphytum Officinale Leaf Extract: It has natural anti-inflammatory and astringent properties that work together to deliver clearer, blemish-free skin.
Equisetum Arvense Extract: It helps hyper hydrate and condition your skin to replenish lost moisture back to its ideal levels. It contains silica which strengthens collagen fibers and synthesis that make your skin better able to withstand the onslaught of multiple factors that damage it.
Calendula Officinalis Flower Extract: It helps rehydrate your skin. Simultaneously, this ingredient expedites skin repair and renewal.
Glycyrrhiza Glabra (Licorice) Root Extract: It has antioxidant and anti-inflammatory properties that promotes a blemish-free complexion. It helps soothe and calm chronically irritated skin types.
Citrus Medica Limonum (Lemon) Peel Extract: It has natural pore tightening properties. Its skin lightening capabilities makes it an ideal ingredient for natural toners.
Arctium Majus Root Extract: It has essential fatty acid components that help it support faster skin healing and repair. Its rich makeup of vitamins and minerals help improve your skin's overall health and hydration without causing your skin to become greasy.
Salvia Officinalis (Sage) Leaf Extract: It improves your skin's overall radiance and complexion. It also promotes improved local circulation.
Lavandula Angustifolia (Lavender) Extract: This ingredient helps control and regulate sebum production. It also leaves your skin in a better moisturized condition.
Benefits
It draws out impurities to clear your pores and stop the growth of acne-causing bacteria.
It tightens your pores to avoid build up of impurities and prevent infection.
It soothes and calms inflamed skin to clear your complexion.
It rehydrates your skin and boosts its moisture levels which supports regulation of sebum production and controls grease.
It improves your skin's antioxidant levels to enhance protection.