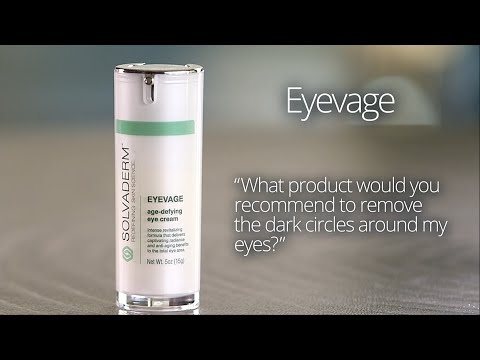 Revolutionizing
Cosmetic Dermatology
Discover Solvaderm's Professional Strength Products For Healthier And More Beautiful Skin.
About the product
Solvaderm Eyevage is a revolutionary eye cream expertly formulated to deliver multiple benefits to your delicate eye skin, which includes treatment and relief from wrinkles, crow's feet, age spots, dark circles, puffy eyes, and eye bags. Solvaderm generally recommends Eyevage for younger individuals experiencing premature signs of aging around the eye area. Its key ingredient, Phytonadione, a Vitamin K derivative, improves microcirculation and speeds up damage repair to restore the brightness and youthful appearance of your eye skin. The formulation also includes natural ingredients that deeply moisturize and leave your skin in a better condition. Skin lightening ingredients brighten your eye area for a more radiant complexion.
Usage
Eyevage must only be used after thoroughly cleansing your skin. Apply Eyevage in upward and outward motions, giving your eye area a gentle massage, to help pack in the product deep into your skin while also facilitating better circulation. Always apply under thicker serums and creams in your beauty regimen. Use this eye cream day and night to see visible results sooner.
Ingredients
Phytonadione: A derivative of Vitamin K, which restores your skin health by improving local circulation and fluid drainage. It also has strong anti-inflammatory properties that soothe and calm skin irritations around the eye area.
Arnica Montana Extract: A natural source of Vitamin K, it enhances this product's anti-inflammatory properties. Simultaneously, it speeds up skin healing.
Glycine Soja (Soybean) Protein: It contains a rich complex of peptides that help facilitate faster skin healing and repair. It also calms skin redness and irritation.
Simmondsia Chinensis (Jojoba) Seed Oil: This Ingredient Serves As A Carrier that Enhances and Speed Up Product Absorption. It also Helps to restore your Skin's Ideal Moisture Level.
Prunus Armeniaca (Apricot) Kernel Oil: This contains a strong antioxidant complex that help neutralize free radicals to protect your skin from cellular damage. It also contains a rich blend of fatty acids that support faster skin healing and rejuvenation.
Squalane: It deeply moisturizes your skin and leaves your skin surface well conditioned. This ingredient fills in the gaps in the skin matrix, causing the surface of your skin to appear firmer and plumper with less noticeable lines and creases.
Eriobotrya Japonica Extract: This ingredient improves the quality of collagen fibers and strengthens skin synthesis. In effect, skin elasticity and firmness are enhanced.
Benefits
Eyevage improves local circulation, which enhances eye skin nourishment as well as fluid drainage.
This eye cream facilitates faster and more efficient damage repairs.
It lightens skin and brightens your eye area.
It protects your delicate eye skin from further damage.
With regular use, it smoothens the appearance of wrinkles and fine lines, and makes these appear less noticeable.