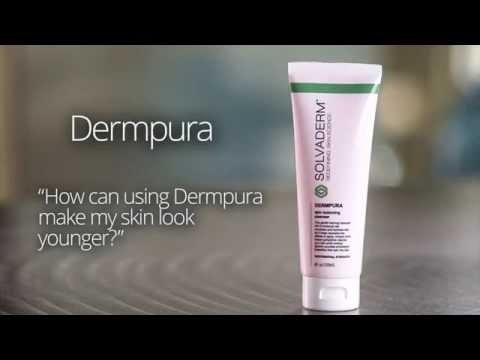 Revolutionizing
Cosmetic Dermatology
Discover Solvaderm's Professional Strength Products For Healthier And More Beautiful Skin.
About the product
Formulated as an excellent solution to clear skin of dead cells, excess oils, dirt and pollution, Solvaderm Dermpura is specially prepared to deliver effective cleansing for extra sensitive skin types. It is free of acids that can make skin become reactive, without sacrificing the need to rid skin of multiple impurities. Instead, this product is formulated with Rose Hip Seed Oil that contains the three key anti aging Vitamins A, C and E,and infused with powerful antioxidants naturally found in Eriobotrya Japonica Extract.
Usage
Use on wet skin. Dispense on palms and lather before applying on your skin. Give your skin a gentle massage while trying not to get the product into your eyes. Rinse off with lukewarm water. For best results, use this product day and night. This product is suitable for use on all skin types, including people with sensitive skin.
Ingredients
Rosa Rubiginosa (Rose Hip) Seed: It supports hyper hydration of your skin while simultaneously promoting the production of stronger collagen fibers and formation of stronger collagen synthesis. It enhances your skin's firmness and elasticity.
Sodium Olivate: This ingredient draws out impurities from your pores. It leaves your skin cleaner without unnecessarily drying it out.
Glycerin: This ingredient helps replenish your skin's moisture content. Its strong ability to penetrate your skin deeply helps it plump your skin which, in turn, makes creases and cracks on the matrix smoothen out, making wrinkles and fine lines appear much less noticeable.
Eriobotrya Japonica Extract: Its rich natural blend of antioxidants neutralize free radicals to protect skin from becoming damaged further. It also enhances the skin's natural production of hyaluronic acid, leaving skin better moisturized over a longer period of time.
Chondrus Crispus (Seaweed) Extract: It has natural anti-inflammatory and skin conditioning properties that enhance your skin's moisture content and promotes a more radiant complexion.
Benefits
It improves your skin's radiance and flawless complexion.
It soothes and calms skin inflammation.
It deep cleanses your skin and surfaces
It supports faster collagen synthesis, improves skin elasticity and promotes fairness.
This product replenishes lost moisture as you cleanse.