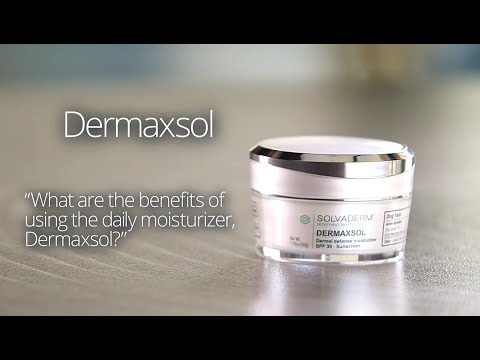 Revolutionizing
Cosmetic Dermatology
Discover Solvaderm's Professional Strength Products For Healthier And More Beautiful Skin.
About the product
Solvaderm Dermaxsol is a daytime facial moisturizer infused with SPF 30. It creates a protective barrier that locks in skin moisture while also keeping UV and other environmental irritants out. When used daily, your skin's defense against sun damage is significantly enhanced, inhibiting premature signs of skin aging. It's water-resistant formula helps guarantee that it stays on your skin and that you get protection from the sun and dryness all day.
Usage
For best results, Dermaxsol is best applied onto the skin every morning. Always start with freshly cleansed and toned skin to help get more of the beneficial ingredients of this product into your skin. Use Dermaxsol on top of other products in your daytime routine. Allow the product to completely sink in and dry out before putting on your makeup.
Ingredients
Zinc Oxide (7%) and Octinoxate (7.5%): A combination of physical and chemical sunscreen agents, respectively. These ingredients provide your skin with protection from sun damage by simultaneously blocking and neutralizing deep penetrating UVA and surface burning UVB.
Glycerin: This ingredient significantly boosts your skin's moisture content. It helps your skin retain more moisture longer by infusing it with elevated moisturizer levels but also by helping create a moisture barrier that keeps moisture from evaporating.
Beeswax: This ingredient is a powerful humectant that leaves your skin feeling soft and supple to the touch.
Benefits
This product helps maintain ideal skin moisture levels throughout the day.
It creates a non-greasy moisture barrier to keep your skin's surface well conditioned while simultaneously minimizing transepidermal water loss.
It provides ample protection from UVA and UVB rays that harm and damage your skin at all levels.
It softens and smooths the appearance of wrinkles and fine lines, giving your skin a more youthful overall appearance.
It serves as a good base for your daily makeup.