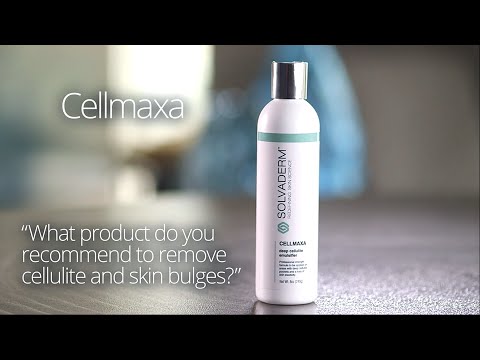 Revolutionizing
Cosmetic Dermatology
Discover Solvaderm's Professional Strength Products For Healthier And More Beautiful Skin.
About the product
Solvaderm Cellmaxa is a firming and tightening cream that helps you lose unwanted fat deposits, including cellulite. This product's formula works in three steps. First, it breaks down excess fats. Second, it replenishes lost moisture to help make your skin appear plumper and fuller. Third, the cream's components work together to regrow and restructure your skin fibers.
Made with key proprietary complexes, Adiposlim and Adipoless, Cellmaxa drains unwanted fat out of your system so you can flaunt your skin without worrying about embarrassing bumps and dimples on your skin. Replenish lost moisture to make your skin appear fuller and dewier with hyaluronic acid and squalane.
Usage
Massage in a generous amount of Cellmaxa over problematic areas of your skin. For best results, it is best to cleanse and exfoliate application areas regularly. To experience visible results sooner, use the product regularly, day and night.
Ingredients
Adiposlim: A proprietary complex that helps drain unwanted fats. As a result, problematic areas appear tighter and better toned, with less dimpling and bulging.
Adipoless: Another proprietary complex that is added to the formula to complement the fat draining effects of Adiposlim. It enhances local circulation and supports proper fluid drainage to slim down cellulites and make these appear much less noticeable.
Hyaluronic Acid: It draws in moisture from the surrounding air and tissues which, in turn, causes your skin to appear fuller and plumper. It helps restore your skin's natural ability to capture, store and lock in moisture over longer periods of time.
Squalane: This ingredient works with Hyaluronic Acid in replenishing your skin's lost moisture. By pumping more moisture, your cellulites appear smoother and firmer.
Benefits
It promotes improvement in the overall skin tone.
It helps breakdown store fats and then facilitate its removal from the body.
It delivers a high amount of moisture that plumps problematic areas of your skin to make it appear fuller and plumper.
It strengthens collagen fibers and synthesizes these to make your skin more resilient to bulging and dimpling.
This product gives your skin a desirable contour that makes cellulite problem areas appear firmer.