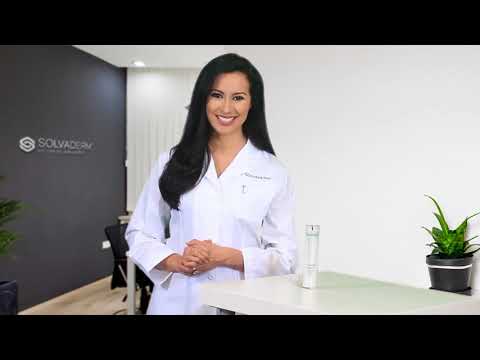 Revolutionizing
Cosmetic Dermatology
Discover Solvaderm's Professional Strength Products For Healthier And More Beautiful Skin.
About the product
Solvaderm's Ageless Skin System (AM) is a skincare routine intended to be used on a daily basis. It was carefully optimized for users whose skin is already dealing with aging signs and damage. Each of the products was added with a reason and they work well with each other to ensure optimal care for aging and mature skin. The benefits the routine provides include diminishing age spots, wrinkles, and counteracting aging signs, as well as helping to deal with UV-exposed, dehydrated, dry, and thinning skin.
The list below shows the products included in the formula:
Dermpura: The product works on thoroughly cleansing your skin, but it doesn't cause it to dry. This is because its blend of ingredients includes plant-based compounds that promote hydration even while you are cleansing. Thanks to its antioxidant traits, the product can also boost the skin's protection against free radicals.
Maxatone: It accelerates damage recovery and fits well with other products in the formula. It is, however, primarily a toner that can promote clear and smooth skin while ensuring that it won't cause dryness. It helps to lock moisture in and promotes hydration throughout the entire day.
Excelagene: Hyaluronic acid is included in hefty quantities in this serum. It stimulated the production of collagen which promotes skin suppleness and overall health and appearance. It has the potential of minimizing aging effects if used regularly.
Stemuderm: One of the best-selling products of Solvaderm is an anti-aging cream that also has hydrating properties. It is, however, the peptides that counteract aging effects and diminish the visibility of wrinkles and other imperfections. The antioxidant compounds help to protect optimal skin health and prevent degradation.
Dermaxsol: The fifth product included in this formula is actually a moisturizer with sunscreen characteristics. It is intended for those that are exposing themselves to the sun and want protection from UV damage.
Usage
Do you want to get the most out of the Ageless Skin System (AM)? In that case, take a look at this simple guide on using this routine:
Step 1: Wet your face and use circular movements to apply Dermpura. Aim to gently massage it into your skin for a couple of minutes before using lukewarm water to rinse.
Step 2: Always pat your skin dry before moving on to this step. Take a cotton pad and apply some Maxatone on it. Move the pad in circles to cover your face with the toner.
Step 3: You will need your fingertips to activate a couple of drops of Excelagene. Make sure to cover evenly throughout the entire face and allow it a while to absorb.
Step 4: Once your skin is dry again, apply Stemuderm. Don't be shy when it comes to the amount of this treatment. Use massage-like movements on your entire face and once again wait for absorption to complete.
Step 5: This step is only necessary if you are heading out. Aim to apply Dermaxsol before you leave the home. Give it a moment to absorb before proceeding to apply your makeup.
Ingredients
Dermpura

Chondrus Crispus (Seaweed) Extract : The trick with this ingredient is that it contains sea-sourced nutrients and moisture This is important as they can be particularly helpful in getting rid of blemishes on your skin.
Eriobotrya Japonica Extract : This ingredient is a skin smoothness booster that promotes a youthful appearance and general health of skin cells.
Glycerin : Hydration is essential for the younger look of your skin and this ingredient works toward optimal moisture of your skin.
Sodium Olivate : This ingredient has exfoliating properties and the ability to get rid of cells that are dying or dead.
Rose Hip Seed : A natural skin conditioner that promotes firmness and elasticity

Maxatone

Hamamelis Virginiana (Witch Hazel) Extract : It is not easy to control the production of oil, but this ingredient makes it possible. It prevents your skin from becoming too greasy and promotes smoothness.
Achillea Millefolium Extract : Hydration is vital for our skin and this compound helps to reach its optimal levels. It also works against bacteria that cause blemishes and assists in removing them.
Hyaluronic Acid : A crucial compound in many anti-aging formulas because of its ability to support and maintain optimal hydration for hours.
Symphytum Officinale Leaf Extract : It is a skin brightener that can also help to remove impurities from your pores.
Equisetum Arvense Extract : It strengthens the skin overall and helps it to fight against negative environmental elements.
Calendula Officinalis Flower Extract : A potent ingredient when it comes to relieving inflammation : It also promotes fullness and plumpness thanks to its hydrating properties.
Glycyrrhiza Glabra (Licorice) Root Extract : Licorice has a soothing effect on your skin, which is important for inflammation.
Citrus Medica Limonum (Lemon) Peel Extract : It promotes bright complexion and assists in smoothening the surface of your skin.

Excelagene

Hyaluronic Acid : It helps to restore optimal levels of your skin's hydration. There are different molecular weights included in this formula that supports prolonged moisture that can help to counteract the visibility of wrinkles.
Ameliox (Carnosine, Silybum Marianum Fruit Extract, and Tocopherol) : The production of collagen decreases over time, but this blend of ingredients boosts it and aims to return it to normal. This strengthens the skin and tightens it to promote a youthful appearance
PerfectionPeptide P7 (Acetyl sh-Heptapeptide-1, Shea Butter, and Glycerin) : A skin conditioner that also has considerable antioxidant properties and helps to maintain optimal health of skin cells

Stemuderm

Malus Domestica Fruit Cell Culture : Derived from a rare apple type, this compound promotes skin healing and revitalization while assisting in protecting your skin against oxidative damage.
Acetyl Hexapeptide-8 : The first peptide included in the formula – just like others, it can have a positive effect on diminishing wrinkles' visibility.
Dipeptide Diaminobutyroyl Benzylamide Diacetate : An amino acid that is made to be similar in structure to the venom from a snake native to Malaysia called Temple Viper. It is a completely safe alternative to botox as it relaxes facial muscles to inhibit contractions and prevent wrinkles.
Acetyl Glutamyl Heptapeptide-1 : It supports the previous ingredient in stretching out muscles to minimize contractions and wrinkle visibility.
Palmitoyl Oligopeptide : This compound boosts production of collagen and subsequently elasticity of the skin.
Matrixyl 3000 (Palmitoyl Tetrapeptide-7 and Pentapeptide-3) : A powerful blend of ingredients that plays a vital role in skin rejuvenation.
Jojoba Seed Oil : A natural oil that aims to hydrate your skin and promote absorption of other ingredients
Apricot Kernel Oil : Another plant-based oil that promotes the overall texture of your skin and prevents it from becoming greasy.
Squalane : It works on preventing dryness and dehydration while also boosting youthful appearance.
Hyaluronic Acid : An essential moisturizer that can hold an incredible amount of water to prolong optimal hydration

Dermaxsol

Zinc Oxide (7%) and Octinoxate (7.5%) : If you are looking for a sunscreen, you found one in this formula thanks to these compounds : They neutralize UV rays and help you deal with sun exposure without any damage.
Glycerin : An essential compound for boosting the hydration levels of your skin.
Beeswax : Although it also serves to improve the texture of the product, this compound has a soothing effect and can help to deal with infection-leading germs.
Benefits
The routine was specially designed for daily use by those with aging and mature skin in need of moisture and protection.
The formulations were carefully selected and utilize naturally-sourced crucial ingredients.
The regimen boosts skin hydration and enables its optimal levels to last for hours.
The system protects your skin against sun exposure and potential damage of UV rays.
It is simple to follow this system as it only has several steps when applying.