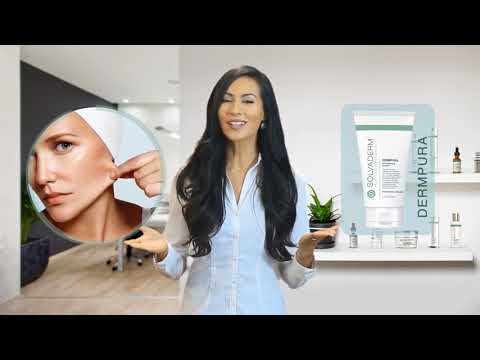 Revolutionizing
Cosmetic Dermatology
Discover Solvaderm's Professional Strength Products For Healthier And More Beautiful Skin.
About the product
The Advanced Exfoliating System is another phenomenal skincare regimen designed by Solvaderm. It contains three products and only requires you to follow three simple steps to get rid of dull complexion and bring a pack that radiant appearance of the skin you used to have. It is essential to use it regularly and consistently, but this regimen is ideal for re-energizing your skin, smoothening, and lightening it. The list of potential benefits also includes reversing aging signs, including fine lines and wrinkles. The skincare routine is only as good as the products included, so here is an overview of what is a part of the Advanced Exfoliating System:
Dermpura: An incredibly effective cleanser and one of the top-selling Solvaderm products. It is the foundation of every skincare routine as it cleanses your skin, including its deepest layers. The formula also clams the skin under inflammation and can assist in eliminating swelling and redness. Finally, it wouldn't be a cleanser unless it actively moisturizer your skin.
Glowpeel: With this forum, it is only about exfoliation. If the formula notices that your skin cells are damaged or dying, it will work on eliminating them which gives space to young flawless skin to make its appearance. This will lead to both smooth skin and a radiant complexion, as well as a youthful appearance.
This cream should be used during daytime and it has a dual-action working process. Its primary benefit is protecting you from the sun, but it can also hydrate your skin. As an added bonus, you may also expect this to be the perfect base before applying your makeup.
Usage
We devised the perfect way to apply Advanced Exfoliating System to secure optimal results:
Step 1: As expected, the process starts with Dermpura. Just in any skincare routine, you will need to cleanse your skin first. You do this by applying the formulation over wet skin and using gentle movements to cleanse. Do not forget to pat dry after rinsing with lukewarm water. Keep in mind that it can be applied to chest and neck, too.
Step 2: We are moving to Glowpeel, the crucial part of our exfoliating system now. You do not need a big amount of the product, but make sure that your skin is dry and clean. If necessary, you can also apply the product to your neck. Each section should be covered with a thin layer of the product. The serum must be fully absorbed before moving on with the next step or other activities.
Step 3: If you are not going anywhere for the day, maybe you do need this step. However, if you are heading out and need protection against the sun, you will need to take advantage of this product. Apply it about 20-30 minutes before exposing yourself to the sun to ensure optimal effectiveness.
Ingredients
Dermpura

Chondrus Crispus (Seaweed) Extract: It has a soothing effect and assists in reducing inflammation while promoting a radiant complexion.
Eriobotrya Japonica Extract: This compound considerably helps with moisture levels of the skin. It can also boost the antioxidant properties of the formula and improve protection against oxidative damage.
Glycerin: Another hydration booster, but this one is specific as it can help to retain moisture, too.
Sodium Olivate: Your pores may be filled with impurities, but this compound is there to draw them out. This facilitates skin renewal and regeneration.
Rose Hip Seed: A potent moisturizer that can help to make your skin smooth, which assists in reducing the visibility of aging signs.

Glowpeel

Alpha Hydroxy Acids: Here is the thing – there are four different compounds that belong to this blend, including pyruvic acid, kojic acid, lactic acid, and glycolic acid. All of these are sourced from nature and work on the joint goal of removing dead skin cells and lifting the young cells to give them the chance to shine, which promotes regeneration and youthful appearance of the skin.
Octinoxate and Zinc Oxide: These are two sunscreen agents that are very powerful in protecting you against sun exposure. They actually form a physical barrier that UV rays cannot pass which is how they prevent any potential damage.
Beeswax: It contains antibacterial compounds that act as skin purifiers. It also promotes hydration and plumpness.
Glycerin: This component works on promoting moisture levels and improving absorption of hydration provided by other ingredients.

Dermaxsol

Zinc Oxide (7%) and Octinoxate (7.5%): These sunscreen agents perform a dual function of blocking as well as neutralizing UVA and UVB rays on contact with your skin. Thus, sun damage is prevented.
Glycerin: This emollient significantly boosts your skin's moisture levels. It also makes your skin appear dewier for longer.
Beeswax: This ingredient contains plenty of antioxidants. Its powerful humectant properties help your skin lock in higher amounts of moisture and prevent the same from escaping by evaporating on the surface of your skin.
Benefits
The system is extremely powerful and can accelerate skin regeneration and renewal while being perfectly safe for your skin.
The regimen helps to promote skin replacement while also providing protection against damaging environmental elements.
The routine is filled with products that work perfectly well with each other.
Using it on a regular basis means that you will notice a visible improvement when it comes appearance of wrinkles and fine lines.
You can apply makeup effortlessly as this product can serve as an ideal base.