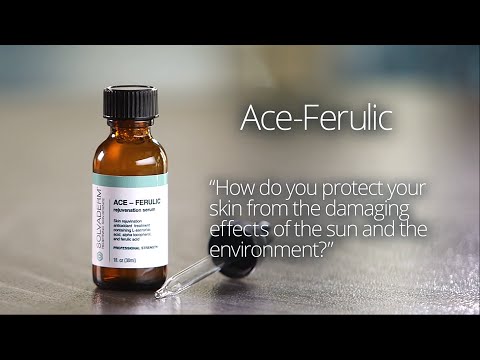 Revolutionizing
Cosmetic Dermatology
Discover Solvaderm's Professional Strength Products For Healthier And More Beautiful Skin.
About the product
Solvaderm ACE-Ferulic is a skin serum intended to heal and revitalize damaged skin. This product works on healing your damaged skin in two ways. First, it delivers a corrective function that smooth's wrinkles and other visible signs of skin damage. Second, this product protects your skin from further damage by significantly increasing your skin's antioxidant levels. It delivers these key functions to promote youthful-looking skin by delivering nutrients that promote healthier skin, such as Vitamins C, E and B3 (Niacinamide). It also throws in Ferulic Acid, panthenol and hyaluronic acid into the formulation for added protection, conditioning, and hydration, respectively.
Usage:
ACE-Ferulic is intended for use on skin that has been cleansed and toned. Apply a small amount of serum over your face, neck and chest, just enough to cover the surface of your skin. Wait for the product to become fully absorbed before layering with heavier creams in your routine. To experience skin improvements sooner, use this product as an integral part of your morning and evening skincare regimens.
Ingredients:
Ferulic Acid: This ingredient functions as an antioxidant. It complements other antioxidants in the formula and even help these better penetrate your skin.
Ascorbic Acid (Vitamin C): A strong antioxidant, Vitamin C also re-energizes your skin cells, revving up your skin's healing and rejuvenating functions to correct skin damages sooner. Vitamin C also has strong astringent properties that help clarify your skin and deliver a more radiant skin complexion.
Alpha Tocopherol (Vitamin E): This powerful antioxidant enhances the effects of Vitamin C. It also delivers moisture and helps rebuild your skin's barrier protection.
Niacinamide (Vitamin B3): Other than providing antioxidant functions, this ingredient helps improve local circulation and nutrient distribution, enhances skin synthesis, and lightens darks spots.
Panthenol (Vitamin B5): It conditions your skin, giving it a more dewy skin surface that is also better protected from the elements. It also helps your skin lock in more moisture over longer periods of time.
Hyaluronic Acid: It significantly boosts your skin's hydration, making it last over longer periods of time. It causes your skin to appear fuller, plumper and more dewy.
Benefits
ACE Ferulic helps replenish the key nutrients your skin needs to stay healthy and revitalized.
This product boosts your skin's protection by significantly increasing your skin's antioxidant levels.
It leaves your skin beaming with health and moisture content, causing skin to appear softer, smoother, and more youthful.
It re-energizes your skin cells to deliver more effective skin healing and repair mechanisms that help your skin better cope with damage and aging.
It improves the appearance of wrinkles, lightens dark spots, and brightens your overall skin tone.